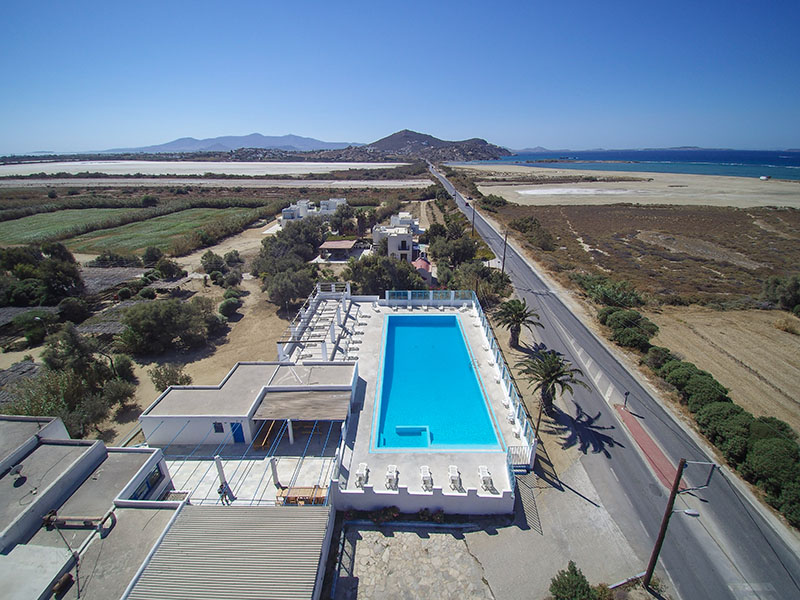 Here, just in front of Naxos Camping, you will find a unique combination of wave venue and waist deep lagoon, as well as reliable onshore wind, warm sea, superb climate and a lively town side by side.
Inside the lagoon you'll experience some of the best slalom and freestyle conditions worldwide. The outer reef separates the location and provides ideal conditions for Spocks or Vulcans and as you are moving toward the reef you will find small waves but big enough to pop nice forwards.
As the entire lagoon is waist deep, windsurfing here is really relaxant and pleasurable. Beginners and intermediates, too, will feel very comfortable here.
The sea-bed and the beach are free of stones and sea urchins so... you can forget your shoes at home!
Outside the reef there are waves between 1 and 2.5 m high that break at offshore reef and provide intermediate and advanced sailors with the right setting for perfect jumps and wave riding.
On "big days" reef breaks can get as high as 3m, then conditions become truly outstanding and ensure radical action.
The location is exposed to the north, wind is clean coming off the sea and is incredibly steady as it blows unobstructed. No gusts or lulls, no sharp changes in direction.
During summer months the well-known meltemi gives us guaranteed planning conditions almost every day.

Make your non-windsurfing partners really happy, the place is located a 5 minute walk from the Agios Georgios central beach and a 15min walk from Naxos downtown. Everything is within walking distance, so... no need for that car on this holiday.
No matter what your level is, Naxos is the perfect playground for easy blasting, fast and furious freestyle, pure wave sailing or just having fun.